Latest Update: 19/10/20
The Welsh Government have just announced there is to be a two week lockdown from this Friday to 9th November. Unfortunately your holiday from Goytre Wharf will not be able to go ahead.
We are able to transfer your booking to another ABC location for the same dates, transfer your booking to next year or offer a refund.
If you are due to travel from Wales to go on holiday in England, please also contact us.
Please contact us on 0330 3330 590 or e-mail us.
Past Updates
Update: 14/10/20
Following the latest Government advice if you are due travel from one of our hire bases that is in a medium risk area then the Rule of 6 still applies. So you can still go on holiday but only in groups of six and under (unless your own household or support bubble is bigger)
If you are due to travel from a high risk location then you can only do so with people you live with or bubble with.
The rules for Wales and Scotland do differ. See update below from 9/9/20.
Please check the latest advice at www.gov.uk
---------------------------------------------
Update: 1/10/20
Due to updated Government rules, areas in North Wales cannot be entered. If your holiday is from Blackwater, Whitchurch or Wrenbury you'll not be able to enter Denbighshire, Flintshire, Conwy or Wrexham.
There are however plenty of other cruising options from these 3 locations that do not cross the Welsh border.
---------------------------------------------
Update: 9/09/2020
Updated 11/9 to include clarity about Scotland & Wales
Rule of 6 – From Monday 14th September in England, Coronavirus rules now mean that the maximum number of people allowed on our boats will be:
- 6 from any household
- No limits to a single household including those who have formed a support bubble.
If you are not able to comply with these revised restrictions then the Coronavirus Guarantee applies and you can defer your holiday to 2021 at the 2020 price, or you can have a full refund.
In addition, if you would like to book an additional boat to comply with the new rules, subject to availability, you can book a further boat at a 35% discount. (Discount will not be applied retrospectively and is the total discount you can claim on the additional boat).
For Scotland: The rules are two households only, and no bigger than a group of 6. Children under 12 do not count towards the total number.
For Wales: The limit on numbers of people who can meet indoors is 6, and they must belong to the same extended household group. Up to four households are able to join together to form an extended household in Wales. This means all the people living in these separate households become part of one extended household for the purposes of the coronavirus restrictions.
For further information please email info@abclg.com.
---------------------------------------------
Update: 21/08/2020
We are pleased to offer our Coronavirus Guarantee free of charge on all bookings during 2021.
---------------------------------------------
Update: 31/07/2020
From midnight on 30th July, the UK Government applied new lockdown measures on a number of areas within the North West including Greater Manchester and areas of Yorkshire.
If your forthcoming holiday is due to commence either from within one of the affected areas or from a location where your holiday cruise may enter one of the affected areas, we wanted to give you advice on what these latest restrictions may mean to you.
In accordance with the Government advice released 31st July, your holiday is still able to proceed if you and your party live within a single household plus a social bubble. You must however not share an indoor space with anyone outside of your own household or social bubble whilst within the specified lockdown areas. This means that single households are largely unaffected whereas multiple households cannot share an indoor space (including inside a boat).
You may also continue to visit pubs, restaurants, shops and cafes providing you only visit as a single household and social distancing measures are strictly adhered to.
If your party comprises two households or more please contact us.
For full details of the UK Government's latest guidance click here.
---------------------------------------------
Update: 30/07/2020
Following a final decision from HMRC on 29th July 2020 "we are NOT in a position to apply the temporary reduced rate of VAT to the supplies made by ABC and a number of its competitors."
ABC are disappointed by this decision and hope that any future reductions in VAT will apply to the entire tourism industry and not selected parts.
---------------------------------------------
Update: 14/07/2020
Despite our assumption that boating holidays would attract the temporary reduced VAT rate HMRC, via British Marine, have confirmed this is not the case. In VAT regulations boating holidays are specifically excluded from holiday accommodation.
We are bitterly disappointed by this and believe it leaves us at a competitive disadvantage to other UK based holidays. We have challenged the decision by writing to HMRC, the Chancellor of the Exchequer and the Tourism Minister.
Statement from British Marine
On the 8 July 2020, the Chancellor of the Exchequer provided an update on the measures HM Treasury would take to support businesses following the COVID-19 pandemic.
Included in his announcement was a VAT cut to 5% for the tourism and hospitality sectors for a 6 month period (15 July 2020 to 12 January 2021).
In a communication on 14 July, HMRC confirmed to British Marine that the reduction of VAT to 5% for holiday accommodation does not apply to those businesses hiring recreational craft with overnight accommodation, nor does it apply to mooring providers for any vessels. The reduction in VAT to 5% would only apply to those providing holiday accommodation on houseboats.
HMRC have provided further clarification and definitions of "Houseboats" in their guidance notice "Hotels and holiday accommodation (VAT Notice 709/3)"
For those wishing to seek clarification on this definitive position from HMRC, British Marine would recommend contacting the HMRC National Call Centre on 0300 200 3700 and quoting the call reference number "DBS-10912" for confirmation of this position.
British Marine is disappointed by this decision and believes that by not including our industry within the scope of holiday accommodation for VAT purposes, HMRC is supporting anticompetitive activity by favouring other industries in the tourism sector. British Marine will therefore now be challenging HMRC's position to ensure there is a level playing field for all holiday accommodation providers.
---------------------------------------------
Update: 9/07/2020
Temporary VAT Reduction for customers due to travel from the 15th July
Although we are still waiting for full clarification from Government, HMRC have said that the reduced rate of VAT will apply to all holiday accommodation in hotels, B&Bs, campsites and caravan sites, as well as attractions like cinemas, theme parks and zoos.
We believe that this will apply to your upcoming holiday. Once we have full clarification we will refund the difference between the 20% VAT and 5% VAT.
We have experienced record booking levels over the last few weeks which has kept the booking office extremely busy. We would ask for your patience as we will have to manually apply the reduced rate to individual bookings.
Why is the reduction only 12.5%? This is because VAT is an Ad valorem tax. The table below shows the treatment of VAT at 20% and 5% which results in a 12.5% reduction in price: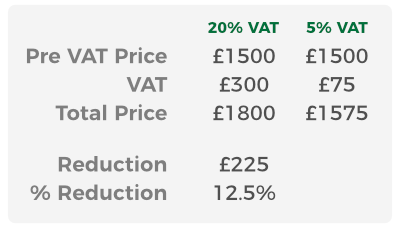 ---------------------------------------------
Update: 8/07/2020
If you have booked via Hoseasons we apologise that we are unable to assist you with your booking and you must deal direct with your agent. Our Coronavirus Guarantee applies to all bookings made direct with us.
---------------------------------------------
Update: 2/07/2020
We are pleased to have been awarded the Good to Go consumer marks to reassure our customers that our business adheres to Government and public health guidance.
We have implemented the Government's COVID-19 reopening guidance, understand the guidance from Public Health England and have a COVID-19 Risk Assessment in place.
Update: 1/07/2020
If you or any member of your party is displaying any Coronavirus symptoms, please follow Government advice and do not travel.
Please watch the handover video prior to arriving at the marina. On arrival at the marina only 1 member of the party should report to reception. Please follow distancing and directional instructions around the marina.
We will endeavour to carry out as much of the handover outdoors as we possibly can.
The handover will be to the Captain and one other designated crew member only. For mitigation purposes where a 2M distance cannot be maintained please bring a face covering.
Before your party embarks the boat, the Captain and crew member will be asked to lead a member of staff through the boat so that specific features can be pointed out. This is your chance to ask any questions you may have. Please note you will be asked to wear a face covering and the member of staff will be using PPE (Gloves, face and eye covering).
Once this process has been completed the rest of your crew will be invited to load your belongings and embark the boat. Once they are safely on board the external handover and tuition will take place, again where a social distance of 2M cannot be maintained face coverings will be required.
If in the unusual event of a breakdown that an engineer has to attend, guests will be asked to either vacate the boat, or to confine themselves to an area of the boat away from where the repair is taking place while the engineer is on board.
While you are cruising you may use infrastructure such as locks or swing bridges.
For your own safety you may wish to wear gloves while operating or wash your hands once you have finished the operation.
Selected items of inventory have been removed from the boat to speed up turnround times. If you do require any of the following items, please inform reception: Whisk, Casserole Medium, Pie Plates Small, Basin Small, Saucepan Steamer, Saucepan Extra Large, Saucepan Small, Tea & Coffee Caddy, Teapot, Strainer Tea, Sugar Basin, Tea Tray, Cruet, Table Mat, Cafetiere, Ashtray, Flower Vase, Brasso Wadding & Container
At the end of your holiday we ask you to place the bed coverings, tea towels and towels into the plastic bag provided and leave on the rear deck of your boat.
Once you have embarked on your journey you will be able to explore our beautiful canals from the luxury of your self-contained narrowboat.
---------------------------------------------
Update: 29/06/2020
We are preparing to operate from the 4th July in England, the 15th July in Scotland and Wales are still yet to confirm a date but looks likely to be the 13th July.
We are looking forward to welcoming you onto your boat. We know that most of you can't wait to cruise off on our beautiful canals and rivers this year.
However we are aware that some of you are still nervous about taking a boating break this year. We are delighted to offer you the opportunity to transfer your booking to 2021 for a £50 admin fee if you would feel happier. If you wish to take up this offer you must contact us before the 4th July 2020. Please bear with us as we are experiencing a high level of demand and we may not be able to respond to you immediately.
We have also improved our Coronavirus Guarantee by extending the period that you can claim from 7 days to 28 days prior to your holiday.
New Videos
Watch our 2 new videos on the changes we've made to help keep you safe, and our new handover video so we can reduce the amount of time we need to spend with you.
---------------------------------------------
Update: 24/06/2020
We are delighted to announce that following yesterday's announcement we are now able to operate from the 4th July in England. Scotland's confirmed date is the 15th July.
Our phone lines have been exceptionally busy. You can book online at www.abcboathire.com or email us at info@abclg.com if you would like a call back.
---------------------------------------------
Update: 12/06/2020
HOLIDAYS FROM FALKIRK
The Scottish Government have now confirmed that our holidays can operate from Falkirk from the 17th July.
If you are travelling prior to this please contact us by e-mailing info@abclg.com to arrange a refund or transfer.
---------------------------------------------
Update: 09/06/2020
We are now working on cancelling holidays due to take place prior to July 4th. Please email info@abclg.com with your booking reference and preference of deferring later in the year or 2021, or taking a refund. Please see our Coronavirus Guarantee for further details.
Please allow up to 7 days for a response to your email.
---------------------------------------------
Update: 03/06/2020
We are now working on cancelling holidays due to take place prior to June 25th. Please email info@abclg.com with your booking reference and preference of deferring later in the year or 2021, or taking a refund.
Please allow up to 7 days for a response to your email.
---------------------------------------------
Update: 29/05/2020
June bookings
We have taken the decision to cancel all holidays up to the 14th June. If you are booked to go on holiday with us prior to this please contact us with your 6 digit booking reference number and confirm whether you would like to transfer your booking or have a refund.
We are still hoping that it may be possible that late June bookings may be able to go ahead but are reviewing the situation constantly.
---------------------------------------------
Update: 26/05/2020
ABC Boat Hire would like to thank all its customers for their support during these unprecedented times.
The team would like to thank those guests where Government guidance prevented us from facilitating your holidays who have deferred their holidays to 2021 at 2020 prices.
For those guests who opted for a refund we are sorry that it has taken some time to process the refund. This task was made easier last week when a small team returned to the booking office. We have made good inroads into the backlog and will not open the phonelines for inbound calls until we are up to date. If you have any queries, please email info@abclg.com.
The next Government update is due Thursday 28th May. If Government advice does not allow us to facilitate your holiday it is covered by the Coronavirus Guarantee. If you choose to defer your holiday to 2021 there will not be any administration fee and you will secure a 2021 holiday with the 2020 price.
Once we can facilitate your holiday, we have implemented a series of changes to protect both you and our teams. Cleaning products have been switched to use detergents specifically tested against Covid-19. We will be implementing social distancing where possible and using PPE to mitigate the risk where it is not. This includes limiting the number of people in the reception areas.
We have also produced a handover video which you can see here.
We expect to be able to facilitate holidays from July 4th, although there is a chance this could be earlier.
Due to travel in June?
We are waiting to hear the latest advise on Thursday 28th May to see if your holiday will be possible and will update the website on the 29th May.
Due to Travel after July 4th?
If you have a disinclination to travel after July 4th we can offer a deferral until 2021, at the 2020 price, subject to a £50 rebooking fee if you contact us before June 30th.
If Government Advice prevents us from facilitating your holiday at any time during 2020 the Coronavirus Guarantee will apply.
---------------------------------------------
Update: 13/05/2020
This week the Government launched a conditional plan for a return of economic activity. Though the dates are subject to change, and there is no specific advice for self-catering holidays, we anticipate being able to safely welcome back guests sometime in June or July.
For those holidays due to take place before the end of May please see our Coronavirus Guarantee for your options. We are sorry it is taking longer than anticipated to process the refunds – this is a manual task and each one takes a considerable amount of time.
If your holiday was due to take place before the end of May and we haven't been in touch please email info@abclg.com – again your options are in the Coronavirus Guarantee. As there is only a very small team working from home please allow up to 7 days for a response.
If you are due to travel in June, we do not know if you will be able to travel. We will continue to adhere to Government guidelines and if those guidelines mean that you are not able to take your break the Coronavirus Guarantee will apply at that time.
Please be assured that ABC Leisure Group is financially secure and able to weather this storm. We have also been working hard to put in place new housekeeping procedures, as well as procedures to ensure that we can comply with the Government advice in providing a safe environment for both our employees and guests.
We are all looking forward to welcoming you on board our fleet of modern narrow boat in the future.
---------------------------------------------
Update: 06/05/2020
Coronavirus Guarantee
Book with Confidence
We all need something to look forward to in these uncertain times. That is why we are offering a free Coronavirus Guarantee. If you are not able to go on your boating holiday due to current UK Government Advice 28 days before your booking you can contact us to:
· Move your holiday to a later date with no amendment charge; or
· Have a full no quibble refund if UK Government advice prohibits you from taking your holiday.
If your holiday is cancelled due to UK Government advice email info@abclg.com, or write to the booking office, giving us your booking reference number and travel date, and your options are:
1) Transfer to another date in 2020 or 2021 (If the price of your new holiday is more than 10% higher than the original one you will need to pay the difference at the time of booking.
2) If you do not know your dates, we can transfer your money into a secure client account until you are ready to book.
3) Cancel your booking and receive a full refund (If Government advice prohibits you from taking your holiday).
Terms and Conditions
1) The guarantee applies to holidays due to be taken during the period covered by current UK Government advice plus seven days.
2) This guarantee applies to the SARS-CoV-2 / Covid19 strain of Coronavirus.
3) All other terms and conditions are unchanged.
4) We strongly recommend that you take out holiday cancelation insurance for all other risks.
5) If the price of your new holiday is more than 10% higher than the original one you will need to pay the difference at the time of booking.
6) The Coronavirus Guarantee applies due to holidays due take place from May 1st 2020 to November 1st 2020.
7) Refunds cannot be processed when the booking office is closed due to Government advice. Refunds can take up to 28 days to process.
Click here for Terms and Conditions
---------------------------------------------
Update: 17/04/2020
The Government has announced a 3 week extension to existing guidelines. This takes us through to the 8th May. For those of you due to travel in May you have a few choices:
· Leave the booking in place and see what the Government advice is closer to the time.
· Defer your holiday to later in the season
· Defer your holiday until 2021
· Have a refund when the booking office re-opens
We are working on the assumption that June holidays will be able to go ahead so would ask guests due to travel from June onwards to not contact us at this time. If Government guidelines still prohibit holidays the above options will apply.
---------------------------------------------
Update: 01/04/2020
Holidays due from June 1st 2020
If you are currently due to make a final balance payment on your upcoming holiday please continue to do so.
Please be advised that the following can be offered if your holiday does not go ahead due to Government Advice or legislation.
- Transfer your booking to a later date during 2020 with a similar value or pay the difference.
- Transfer your booking to the same date during 2021 or a different date and pay the difference. 2021 prices are the same as 2020.
- For holidays due from June 1st 2020, you can have a refund if your holiday cannot go ahead due to UK Government advice.
- If you have booked through an agent, you should contact them direct.
We are currently working with customers that are due to travel in April and May so please do not contact us yet if you are travelling in June or July.
Click here to pay your balance
---------------------------------------------
Update: 27/03/2020
In these trying times we just wanted to offer a few words of assurance for those guests planning to visit us later in the year, or next year.
Alvechurch Boat Centres, or ABC Leisure Group as we a are now known, have been around since the 1970's and have weathered many a storm.
These are troubling times for everyone and we are facing an unprecedented situation. We have a small team, working from home, working through the bookings from the early part of the season. We would like to thank our fantastic customers who have been so patient – it is a mammoth task. We would like to ask those of you due to travel beyond June to hold off for now. Once we know what the situation is for later in the year we will be in touch.
Covid-19 has to be everybody's priority right now, but it will pass. When it does we will still be here offering you the best way to escape on the water.
In the meantime please stay safe and follow the Government advice and we look forward to greeting you as soon as we can.
All the very best
The ABC Team
---------------------------------------------
Update: 24/03/2020
If your holiday is due to start with us before the end of April 2020, please do not travel.
---------------------------------------------
Update: 23/03/2020
We are sorry to announce that, in light of social distancing, the UK Government's advice to complete essential travel only and the most recent advice to remain in your primary residence, we will not be able provide some breaks as previously planned.
The latest government advice is as follows:
"This guidance is for people planning to visit second homes or holiday premises during the coronavirus (COVID-19) pandemic.
Essential travel does not include visits to second homes, camp sites, caravan parks or similar, whether for isolation purposes or holidays. People should remain in their primary residence. Not taking these steps puts additional pressure on communities and services that are already at risk."
Taking into consideration the UK Government's latest advice regarding COVID-19 (Coronavirus), we have taken the decision to close / defer all ABC Boat Hire holidays effective immediately until 30th April 2020. If you are due to visit us today (23rd March 2020), it is important that you do not travel to us. We will contact you as soon as possible. As always, the safety and health of our team and guests is one of our top priorities and we have taken this difficult decision in support of the UK Government recommendations. We know this will be very disappointing for lots of our guests, and we assure you that this decision has not been taken lightly.
If you are due to visit us between now and the above date, unfortunately this does mean we won't be able to provide your break as previously planned. We are in the process of contacting all guests directly – please do not contact us. Please wait to be contacted by us. This will allow us to operate as smoothly as possible.
Please accept our sincerest apologies for this.
We will endeavour to contact you as soon as possible. We hope you'll understand we need to prioritise guests with holidays soonest. It may take us a little bit longer than normal to get in touch with you and we do thank you for your patience during this time.
We will attempt to telephone you in the first instance – if we aren't able to reach you, we will leave a voicemail and send you an e-mail. Please ensure you are vigilant in checking Junk / Spam folders.
More Information
If your holiday is not affected by the above time period, please do not contact us regarding your holiday in relation to COVID-19. We do advise you keep an eye on our website.
We understand this is upsetting and disappointing news for our guests, and we do extend our sincerest apologies.
However, the safety and well-being of both our guests and our team remain an important priority for us and this is not a decision we have taken lightly.
Again, please accept our sincerest apologies that we have needed to take this decision.
We will be in touch with you if your holiday is in the affected dates – we will be having to make a large number of calls during this time and we please ask and thank you for your understanding and patience.
---------------------------------------------
Update: 17/03/2020
We are currently experiencing high call and email volumes.
Please do not contact us unless you are due to travel before 25th May 2020. We are prioritising our responses to those that are due to travel soonest. We are open for business and fulfilling holidays currently. However, if you have decided that you do not wish to travel we are assisting customers to transfer holidays to later in the year.