Wondering how aqueducts work, or what the purpose of one is? Or perhaps you're more interested in learning what the longest aqueduct in England is, or who invented aqueducts? Our ultimate guide has you covered.
What is an aqueduct?
Aqueducts, often found on canals, are structures which are used to conduct water across a valley, or a hollow. By using gravity to keep the water moving, aqueducts are used to convey water from its source to its main distribution point. This artificial channel conveys water over some sort of gap, and is typically in the form of a bridge.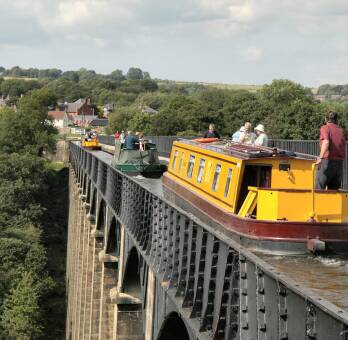 What is the purpose of an aqueduct?
An aqueduct is used to channel water from a freshwater source – and was originally used especially during the Roman period to keep citizens healthy by carrying away used water and waste.
When was the aqueduct invented?
History dates back to the first aqueduct being invented in 312 BC in Rome, Italy – named the Aqua Appia. However, earlier sources suggest that the first sophisticated long-distance canal systems were constructed in the 9th Century, BCE, in the Assyrian empire.
What is the longest aqueduct in England?
Edstone Aqueduct is one of three aqueducts on a four mile stretch of the Stratford Upon Avon canal. The Edstone Aqueduct stretches for 475 feet, crossing a road, a busy railway line and the track of another former railway – making it the longest aqueduct in England.
What is the tallest aqueduct in the UK?
When referring to the UK, however, the tallest aqueduct in the UK is the Pontcysyllte Aqueduct, at 126 feet, 12 feet wide and 1,007 feet long. This makes it the highest canal aqueduct in the world, and the longest in Britain. Situated in Wales, the Pontcysyllte Aqueduct was completed in 1805, and is now a Grade 1 Listed Building and World Heritage Site. Learn more about the Pontcysyllte Aqueduct from our complete guide.
Visit waterway aqueducts on your next canal boat holiday from ABC Boat Hire. Discover our variety of canal locations, and canal routes we have to offer.