4+2 Berth
|

Length 66ft (63ft from Falkirk)

|

Semi-traditional Stern

|

Sleeps 6 People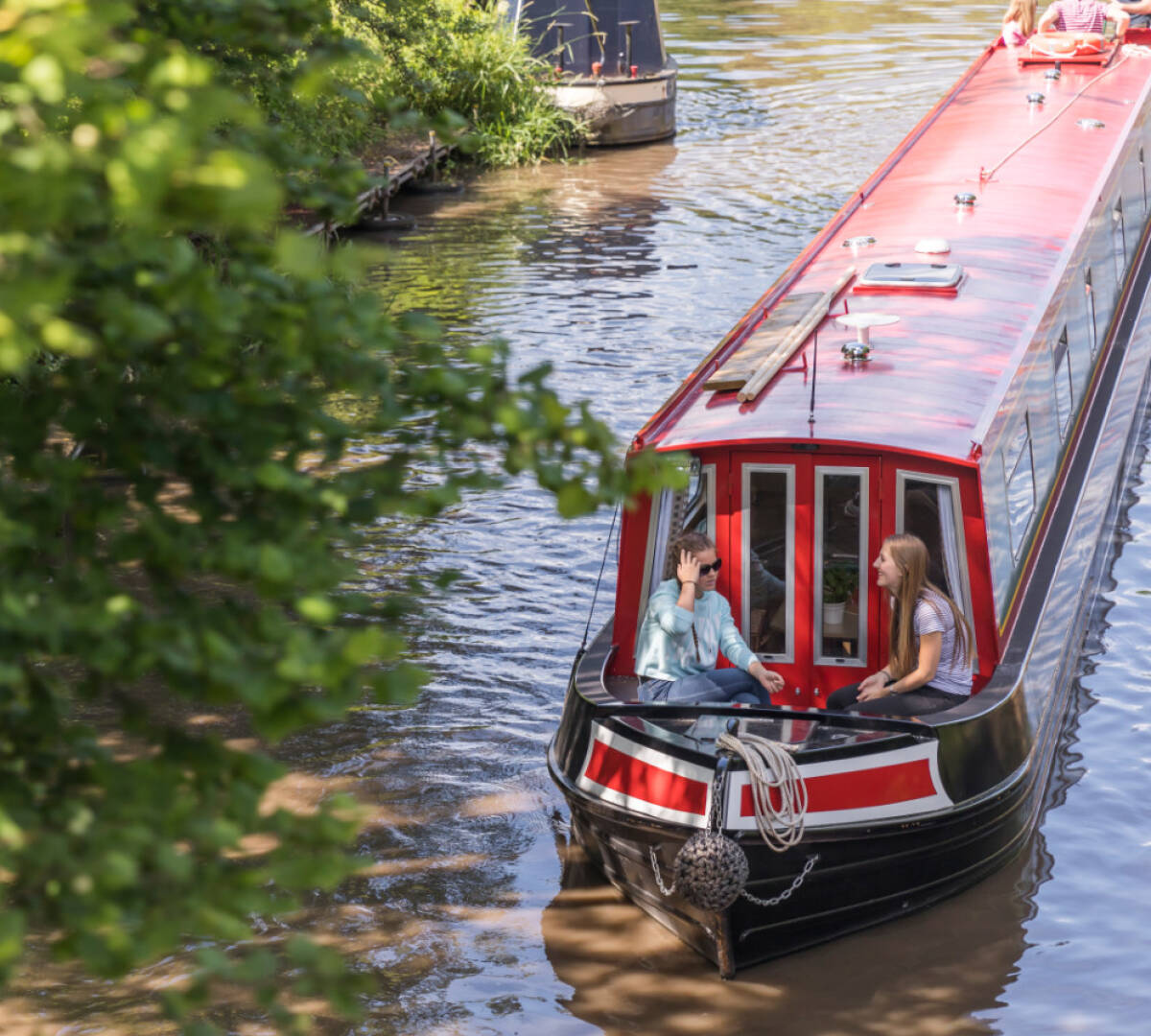 Example Layout



The Boat
The Lark is a 66ft (63ft from Falkirk) Semi-Trad stern narrowboat that is part of our 'Alvechurch Fleet'. It sleeps up to 6 people, ideal for couples or families / groups.
BOAT DESIGN FEATURES
All of our boats have full radiator central heating with hot and cold running water supplied from a 150 gallon water tank.

We also include a double filtered drinking water system. The Lark has a 2kw Inverter that supplies 240 volt electricity to certain appliances and sockets on the boat. There is carpeting in the saloon and bedroom. Also features a security box / safe.

BEDDING ARRANGEMENTS
Sleeps up to 6. Two cabins, both can either be configured as one double bed or two singles.

The seating area in the saloon can be converted into a double bed in the evening, if required.

Wider Beds: Optional wider beds available
Singles at 2ft 6" / Doubles at 4ft 6"

There are wardrobes located throughout the boat (see layout options) for storing clothes.

Freshly laundered bedding for each crew member. Additional bedding available on request. There is an additional TV in one of the bedrooms.

WELCOME PACK
Includes: 1 bottle of washing up liquid, 1 dish cloth, 1 tea towel, 1 floor cloth, toilet roll & bin liner. Helmsman's waterproofs & umbrella.

BATHROOM
Two bathrooms complete with hand basin, electrically operated flush toilet, and shower with bi-fold door. Includes a 240v shaver socket.

KITCHEN
Fully equipped galley with 4 burner gas cooker complete with grill and oven, refrigerator, sink and drainer, work surfaces and storage space. Microwave, toaster and cafetiere. Saucepans, cooking utensils, crockery and cutlery etc included.

ON BOARD FEATURES
Free Wi-Fi, Radio CD player with USB, LCD TV and DVD player, hairdryer, vacuum cleaner, 12v socket. 1 medium size towel per crew member, plus 1 hand towel per bathroom.

Extra Lark Features

The Lark class has additional 'creature comforts' such as LED lighting throughout, 2 TV's, Large mirror in bathroom, shower with bi-fold door, 4 speaker CD/Radio, extractor in bathroom, Front deck table and wider beds .

FEATURES

Please note that if you decide to use any of your own appliances you do so at your own risk

"...everything you need included and we even got a phone call to say we could start our holiday a few hours earlier than planned. Superb customer service from booking to the chat about the boat and then at the end of our week"
Review from feefo on Wood Lark at Rugby Wharf
More Information
INCLUDED IN THE PRICE

Price includes VAT
Bed linen & towels
Car parking (at owners risk)
Life jackets
Full boat inventory (View)
Tuition & Handover
24 hour emergency help line
Accidental damage waiver

FUEL
The boat is handed over ready fuelled with a full tank, but the cost of hire does not include the fuel consumed.

A fuel deposit of £110 per week or £60 per short break is payable 8 weeks before the start of your holiday with your balance of hire. When you return to the marina at the end of your holiday the boat will be refuelled and any difference to the deposit you paid will either be refunded or charged.

CANCELLATION PROTECTION
It is recommended that you have your own cancellation protection insurance in case you have to cancel your holiday.

HIRE TIMES
Collection time is 2.30pm (latest arrival 4pm) and your boat must be returned by 9am (for 9.30am vacation) on your last day of hire.

If you're going from Falkirk: Collection time on Mondays, Fridays and Saturdays is 1.30pm. Collection on Wednesday's is 9.30am.

PETS
Pets are more than welcome on board our boats. All pets are FREE. (normally a maximum of 2 pets allowed per boat)
Virtual Tour
Gallery