You can't beat enjoying a tipple or some famous pub-grub by the waterside on a summer's day. So, where are the best canalside pubs? Whether it's exploring an array of cider flavours in Stratford upon Avon or simply a pit-stop on a long-distance walking route, discover the best pubs with a canalside location today.
Best pubs by the canal
Looking for pubs near canals? Find our top 7 best pubs by the canal now:
1. Lock Keeper, Bristol
Situated on Bristol's grassy banks of the River Avon, this pub initially began life as a private house. It was only set up for occupiers who used water from the river and the nearby well – making it a famous spot that attracted a lot of attention over the years. Enjoy a sample of pub classics and fresh fish from this canalside pub – perfect for a rest stop on your canal boat holiday.
Experience the Lock Keeper on our Bristol and return route.
2. The Canal House – Brindley Place, Birmingham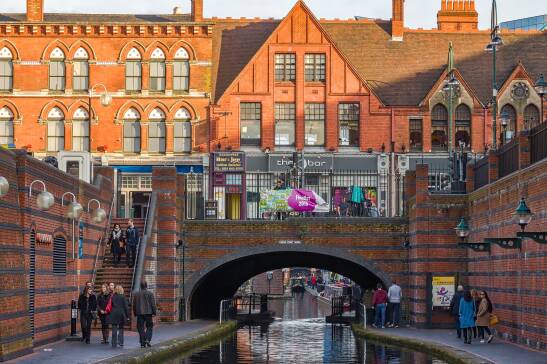 Renowned for its canalside location, The Canal House offers a contemporary public house perfect for a summer's day. Enjoy the outside beer garden which overlooks the Brindley Place canal – and if you fancy a pub crawl, walk alongside the canal to Brindley Place and find a range of bars and restaurants such as Pitcher and Piano, All Bar One and Pizza Express.
Visit The Canal House on our Birmingham and return canal route – the perfect spot for having a tipple by the water.
3. Barge Inn, Wiltshire
Littered with British history from the minute you enter, the Barge Inn dates back to the Stone Age. It's also had a fair few uses before becoming a public house – from being a slaughterhouse to a cart shed. Plus, a short walk away is the famous Avebury Stone Circle – perfect for a bit of touristic exploration!
Find our Wiltshire canal boat holidays today from ABC Boat Hire to discover this popular waterside pub.
4. The Cornmill, Llangollen
Equipped with a fantastic bar and dining area, this gem is located in North-East Wales – and the perfect pit stop on your trip to Llangollen. On days where the water conditions are right, you can even spectate kayaking and white-water rafting all from the comfort of your canalside location! If not, enjoy the stunning views of the Welsh countryside and mountains galore – a sight not to miss.
Discover The Cornmill on our Llangollen and return narrowboat route.
5. Bluebell Cider House, Stratford Upon Avon
Perfect for taking a break from navigating the waterways, the Bluebell Cider House is a great choice for cider-lovers. With an eclectic range of ciders to choose from including fruity and light to dry and crisp, sip on your cider whilst admiring the stunning surroundings of Warwickshire. And if you hit this pub at the right time, you may be able to watch the sunset over the Avon canal!
Discover more about this pub on our Stratford Upon Avon and return canal route.
6. The Weighbridge Pub – Alvechurch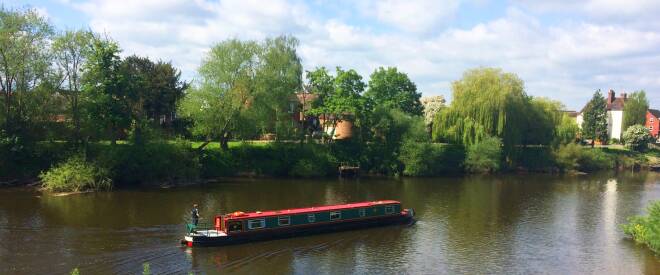 Nestled onsite at Alvechurch Marina is the Weighbridge Pub – a quintessential English canalside pub. This waterside hotspot was once the old Weighbridge office for offloading coal barges to horse and cart for local deliveries. Find charming character of the old building, complemented by a friendly and warm atmosphere – making it the perfect hangout whilst on your canal boat holiday
Discover the delights of The Weighbridge Pub and more on one of our Alvechurch Marina routes.
7. The Canal Turn, Lancashire
Located in the historic market town of Carnforth, find this pub bustling with an array of live local talent and entertainment. Set just between the Yorkshire Dales and the Lake District National Park, this popular public house hotspot is the perfect choice for admiring the scenery whilst enjoying a drink along the waterside.
Cruise along our Lancashire canal routes to experience The Canal Turn pub by the canal.
Want more information on our best canal routes for pubs? Get in touch with a member of our team today for more all boating support and advice. Alternatively, find your next canal boat route with ABC Boat Hire today.