If you're thinking about going on a canal boat holiday in Warwickshire, ABC Boat Hire has all the inspiration you'll ever need. Start your adventure from our Warwickshire-based marinas, where you can put your helmsman's skills to the test by navigating numerous aqueducts, lock flights, staircases and tunnels. As you sail along the waterways, there are plenty of towns and cities to stop off at and explore, including Warwick, Coventry and Birmingham, and our guide to the best canal boat routes in Warwickshire covers them all!
Narrowboat hire in Warwickshire
The Warwickshire Ring
The main route that boaters embark on in Shakespeare's County is The Warwickshire Ring, a 100-mile route that lets you glide between a contrasting mix of rural scenery, industrial heritage and urban landscapes. The route includes:
Grand Union Main Line
Oxford Canal
Coventry Canal
Birmingham and Fazeley Canal
Stratford Canal
Whether you're a couple looking for a quiet getaway or with family in search of fun attractions, the Warwickshire Ring has something for everyone. One minute you will be lazily meandering along the rural countryside and the next, you'll be climbing the 21 Hatton Locks (also known as the Stairway to Heaven) as you make your descent to Warwick.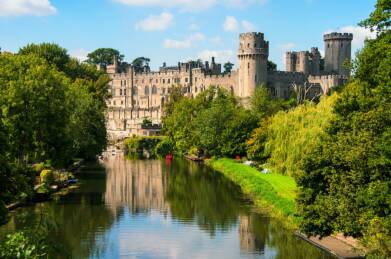 A fascinating blend of old meets new
Alternatively, you can start your journey from Springwood Haven, our base located on the Coventry Canal in Nuneaton. If your timings allow, we recommend taking a detour into Coventry to explore the dramatic ruins of the original cathedral, which was bombed during World War II. You can also see the spectacular New Cathedral, which opened in 1962 and sits side-by-side next to the ruins.
As you cross over the beautiful Grade II-listed Tame Aqueduct, your route now takes you south from Fazeley Junction along the Birmingham & Fazeley Canal. It won't be long before you find yourself in Birmingham, the city that boasts more canals than Venice and is known for its historic waterside hub. If you're keen to discover the best canalside bars and restaurants to visit, read our guide to Birmingham's canal district.
Things to do in Warwickshire
Whether you want to visit historic market towns like Stratford-upon-Avon, explore dramatic old castles or take in the stunning countryside views while enjoying a picnic, there's no shortage of fun things to do in and around Warwickshire. Here are a few of our favourites: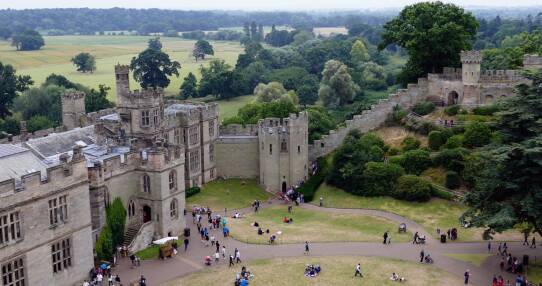 Here at ABC Boat Hire, we offer a variety of routes that encompass The Warwickshire Ring. From Alvechurch Marina, the Warwickshire Ring is 100 miles long and has a total of 128 locks. This type of route should take an average of six hours a day, which means it's likely to take between seven and 14 nights. Or, if you're starting out from Gayton Marina, you're looking at 120 locks and we'd recommend seven hours cruising time over a total of 10-11 nights.
Find out more information on our featured routes, and our canal boat locations, from ABC today.