Thinking of booking a Birmingham boating holiday? Or simply want to know more about what Birmingham's canal district can offer? Our detailed guide has you covered.
Birmingham canals
With 100 miles of canals (more than Venice!), Birmingham's canal district is renowned for being one of the most intricate canal networks in the world. The hub of this district is the renowned Gas Street Basin – which is typically filled with colourful boats amongst modern vibrant restaurants and bars. This well-known Birmingham area is a stretch of canal that runs between many popular Birmingham areas – such as The Mailbox, Brindley Place and even Broad Street which is located a stone's throw away.
As well as being perfect for a night out with friends or exploring the city in the day with family – Gas Street Basin also has surprisingly rural branches. Wind away along the waters from the hustle and bustle of city life – the perfect choice for those who like to discover rarely-explored waterways.
Of course, the history of the canals also evokes large interest from both locals and tourists – especially with multiple Peaky Blinders filming locations dotted around the city, and the canal system - meaning Birmingham is the perfect place to explore not only for fans of the show, but those interested in the history of this city too.
As well as having a wide selection of activities around the waterways – such as The Sea Life Centre; the National Indoor Arena, which plays host to multiple concerts and events; and plenty of eateries and bars – you can also experience canal boat day trips from Gas Street Basin. Get out on the water for an hour or two and cruise away from the lively atmosphere of the city and, of course, for a larger dose of waterway fun, our canal boat holidays are the perfect way to explore Birmingham's canal network in style. Learn more now from our Birmingham area guide to the canal district.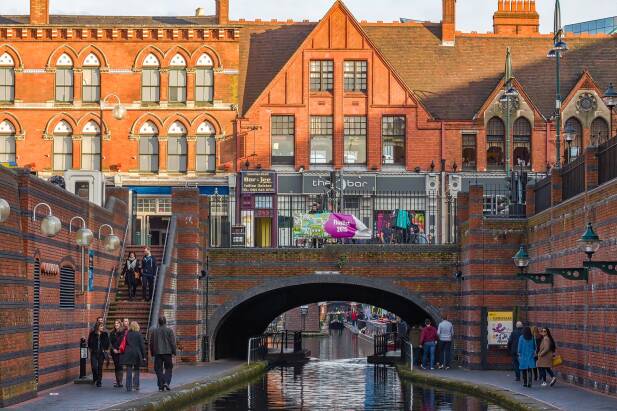 Birmingham canalside restaurants
Birmingham's canal district is famed for its eateries and restaurants scattered along the waterside. However, one of the main hotspots for canalside dining is The Mailbox. Expect to find an open space of bars and restaurants surrounding the water's edge – with restaurants including:
Red Peppers
Tom's Kitchen
Bar Estilo
Zizzi's
Nando's
Pizza Express
There's a wealth of choice for diners to choose from – as well as The Everyman Cinema located quietly in the corner of the canalside establishment. A perfect 'date night' destination for dinner and a movie!
For a lively atmosphere at any time of day or night, Brindley Place in the heart of Birmingham city centre is one of the best places to enjoy Birmingham's canalside food:
Handmade Burger
Siamais
Bank
Pizza Express
Wagamama's
Pitcher and Piano
Not only is it great for devouring delicious bites on the water's edge, but there is a wealth of bars to choose from to elevate your evening to take a more lively turn – such as Slug and Lettuce, All Bar One and The Alchemist.
Canalside pubs in Birmingham
As well as providing a plethora of places to eat, Birmingham's canal network is host to a range of canalside pubs and bars. One of Birmingham local's favourites is The Canal House – situated on the stretch of canal between The Mailbox and Brindley Place. This sun-trap is perfect for a summer's day – with a wooden rustic outdoor drinking area, so you can catch the rays while enjoying a tipple on the waterside.
Almost opposite The Canal House is another favourite – more of a hidden gem, tucked away. The Gin Vault. Small in size but huge in its offering, this fantastic gin bar is a great stop-off point if you're looking for a pit-stop.
Venturing back towards the Mailbox area will lead you to some more drinking spots – popular cocktail bar, Aluna, is a favourite pre-drinking spot before heading down to Broad Street for the night. Another spot - Gas Street Social - is a great place to stay and have a few drinks with friends to end the evening.
Birmingham canal trips
Looking for Birmingham holidays on the waterways? We offer canal boat holidays in Birmingham from our Birmingham and Return route from Alvechurch Marina. You can also begin your Birmingham canal boat holiday from Worcester Marina – which is a slightly longer route taking 7 nights to complete, whereas from Alvechurch Marina, this is a short break of 3 nights.
With plenty to see and do around the city, as well as ample places to eat and drink, a Birmingham boating holiday with ABC Boat Hire is the perfect choice for your next trip on the waters. Get in touch with a member of our friendly team for more information about our Birmingham holidays on the water.