Looking for birthday break ideas? Whether you're planning for yourself or surprising the other half, our ultimate guide on the best birthday getaways for any age has you covered! So, if you're looking for birthday break ideas, from celebrating your birthday on a canal boat holiday to celebrating in adventurous style with an activity holiday, we can help.
Birthday trip ideas
Instead of simply going out for a nice meal, or buying something materialistic – why not treat a loved one for their birthday by planning a brilliant birthday break? Whether it's a birthday weekend away or you're able to take a few days off to really make the most of it, check out our favourite birthday trip ideas for any age:
City breaks
What better way to celebrate your birthday than exploring a busy city full of life? Whether it's a milestone birthday or not, take to the bright lights of the city and start celebrating. With ample things to do in a city centre, whether its in the UK or abroad, this birthday break is perfect for couples, friendship groups or the whole family!
And why not travel there in style, too? To really add a special layer to the birthday trip, you could explore various cities by canal boat! Whether it's reaching Edinburgh or Glasgow from Falkirk; Birmingham city centre from Alvechurch Marina; or the city centre of Bath from Hilperton Marina, there are endless routes you can take to explore the heart of a city for your birthday getaway.
Theatre
Take your loved one to the theatre this year for their birthday. Whether that's to settle down and watch the opera, get your toe-tapping to a popular West End musical or watch the brilliant Cirque de Soleil, there's plenty of options when it comes to theatre entertainment. Take the whole family along, too, to enjoy your birthday trip in style – and, if in London, why not stay for the whole weekend? Make the most of family time, or time with a loved one, while you enjoy your theatre experience.
Countryside retreat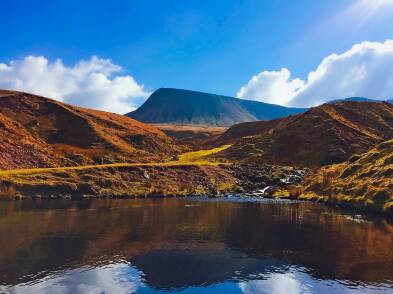 Sometimes, getting away from the hustle and bustle is just as good as exploring it… retreating to the countryside for a birthday getaway can offer the perfect romantic setting to share your special day with a loved one. Cosy up in quaint countryside pubs next to roaring fires after embarking on country walks or hikes during the days. Perfect for a weekend away, if you want to discover countryside gems by canal boat, find out the best scenic canal routs in the UK.
Activity holiday
Planning a birthday for the adventurous? Whether it's throwing themselves out of a plane, bungee jumping above a lake or something slightly simpler like rock climbing, planning an activity-based birthday trip is a great choice. Perfect for those who seek adrenaline, there's plenty of adventurous activities to partake in around the UK – and if the whole family want to join in too, something as simple as Go Ape would be the perfect choice!
Canal boat holidays
Want something extra special to celebrate a loved one's birthday? Perfect for a milestone for a real celebration, our canal boat holidays are a great choice for groups of friends, families and romantic retreats on the water. New to boating? Not to worry – find out the best canal boat holidays for beginners. If you're an experienced boater, learn the top canal boat locations to visit in the UK to find your perfect birthday getaway.
Birthday days out
Alternatively, if a trip away isn't on the cards, why not treat your loved one to a day out instead? Our ABC Day Boat Hire experiences are really popular for booking a birthday day out. Cruise along the waters to a canal side pub for lunch, or pack a picnic for the whole family to enjoy out on the waters!
Ready to book in your next canal birthday break? Find out more about our canal routes and canal locations to find the perfect birthday weekend away for you, loved ones, or the whole family.