Celebrity Britain by Barge: Then & Now
26th February 2020
Similar to the much-loved 'Celebrity 5 Go Barging' we saw on our screens in summer 2019, Channel 5 are welcoming a new edition to the television schedule – in the form of Celebrity Britain by Barge. The series kicked off on February 14th, 2020 at 9pm, and has 4 episodes in total over the coming weeks. So, what makes Celebrity Britain by Barge so special?
Who are the celebrities?
Made up of four recognisable faces, the Britain by Barge team consists of:
Pete Waterman – talent show judge, best-known for his role as a judge on Pop Idol and Pop Stars: The Rivals.
Bill Oddie – conservationist with a passion for nature, as well as an actor, writer, musician and TV presenter.
Jennie Bond – BBC's royal correspondent, journalist and TV presenter.
Anne Diamond – journalist and breakfast TV presenter, best-known for working on Good Morning Britain.
Showcasing breath-taking scenery for the British canal network entwined with history and wildlife, this show is the perfect Friday night television choice for narrowboat enthusiasts.
Forth and Clyde canal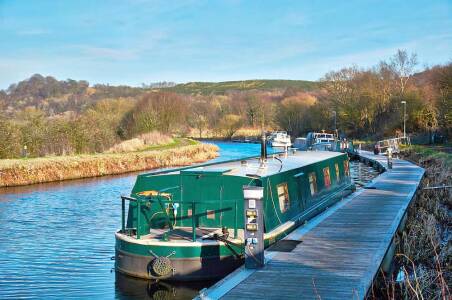 The next episode, which will air on Friday 28th February at 9pm, features the team travelling along the Forth and Clyde canal route. This is an extremely popular canal route, one taken by many of our holiday makers here at ABC Boat Hire, and perfect for those you want to combine breath-taking beauty with rural countryside.
Interested in seeing this canal location for yourself? You can cruise this canal route from our Falkirk canal boat location here at ABC Boat Hire. Discover the incredible Falkirk Wheel while you're there, and travel down the canal visiting either Edinburgh or Glasgow on your canal boat holiday.
Find out more information about the types of narrowboats we have on offer, and which canal routes we have available. If you want any more information, get in touch with a member of our helpful team here today at ABC Boat Hire.