Are you looking for your next canal boat holiday? Perhaps you already have one planned, and want to make sure you know how to drive a narrowboat beforehand? Our helpful guide will give you advice on steering a narrowboat as well as top safety tips to remember when you're out on the waters.
How to steer a narrowboat
The prospect of steering a narrowboat is relatively simple – however, there are a few things to know that will help make your cruise on the waterways as seamless as possible:
Drive on the right – the opposite direction to British roads, all waterways require you to drive your canal boat on the right-hand side. It's important to note that some canals are narrower than others, meaning you may well be in the centre of the channel at times. However, here at ABC Boat Hire, we always state that our guests should cruise in the middle yet always pass other boats on the right.
Speed limit – the speed limit of the British waterways is 4mph.
Line up your canal boat – in this sense, canal boats are not like cars or vehicles you drive on the road. When driving a canal boat, it's important to line up the back of your boat as well as the front – as if you're attempting to turn into a narrow gap, there'll be a risk of your boat hitting the bank or a wall if the back of the boat is not lined up correctly.
Using a tiller – the tiller, a mechanism to assist with steering on canal boats, is your trusted companion when steering canal boats and in particular, changing direction. The tiller controls the position of the back of the boat, so moves the stern to the direction you'd want it to go in. Also, it's important to ensure that passengers are not standing or sitting in the way of the tiller as you'll need to be able to move this easily.
How to reverse a narrowboat
Once you've got to know the feel of your canal boat, reversing or turning around will become a lot easier. While reversing, narrowboats often have a tendency to veer to one side – however, once you've established the optimum speed needed for reversing, turning your canal boat around becomes fairly simple.
Using the tiller to turn about 60 degrees in the direction you want the stern to go, move the narrowboat forward at half speed. This will then push the stern across – at which point, you can select reverse and continue backwards.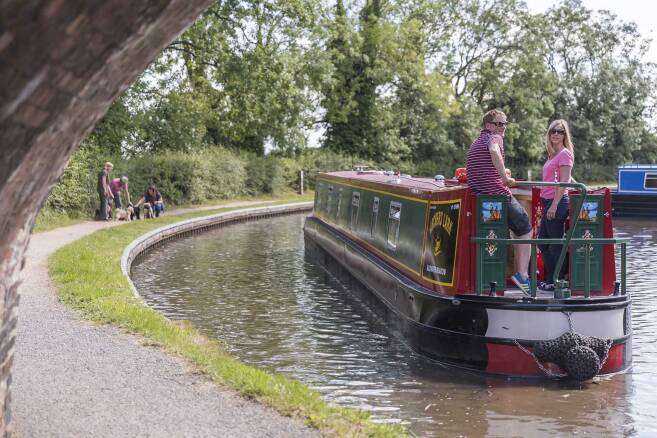 Safety tips for steering a narrowboat
Give yourself plenty of time to stop – boats don't have brakes. Therefore, you need to anticipate that a boat's 'reaction time' is going to be slower – so if you can see an obstacle approaching in the distance, ensure you've slowed down the narrowboat with plenty of time to spare. This includes thinking ahead, for example, if a bridge or locks are coming up, anticipate this early on to allow enough time to slow down.
Keep your wits about you – it's important to always be aware of everything that is going on around you. Similar to driving, keep an eye on the boat, the banks and the water when steering a narrowboat as if you're distracted and not paying attention, you could end up floating off course or colliding with an obstacle.
Want to know how to steer a narrow boat in more detail? This helpful Boaters Handbook goes through how to steer a canal boat, slowing down and stopping, going around obstacles, mooring and more. Not only does this guide teach you how to drive a canal boat, it also provides advice on much more information for boaters, including boating safety, rules of the waterway and good boating behaviour. For more information, see the boaters handbook video, or get in touch with a member of our helpful team.