Starting from Blackwater Meadow Marina your route takes you eastwards, but there's plenty to explore before you even set off. If you have time, Ellesmere Yard, just opposite the town arm, is worth visiting. It is a rare and very well preserved example of a canal maintenance yard dating from the early 1800s. Its great claim to fame is that the canal engineer Thomas Telford worked here while building his canal. There are a range of buildings, many of which are now Grade II*-listed, including a blacksmith's forge and joiner's shop, a dry dock, a yard manager's house and Beech House - the former head offices of the Ellesmere Canal Company.
It's also well worth visiting the Meres Visitor Centre by the Mere which gave Ellesmere its name, and a series of smaller meres border the Llangollen Canal as you head eastwards out of the town. Your cruise round the Cheshire Ring promises to be a mix of seriously slow travel and sightseeing and when you eventually set off cruising , the first temptation to stop soon grabs you at the intriguing town of Whitchurch. Not only is the town famed for being home of Joyce's clocks, it is also the historic collection point for Cheshire cheese to be loaded onto canal boats and transported to Ellesmere Port for export. If you are here on the first Saturday in the month, try some of the local cheeses at the Farmers' Market.
Grindley Brook Staircase Lock
Just beyond Whitchurch, the first challenge for your crew awaits at the scenic Grindley Brook staircase locks. Don't worry - a friendly lock keeper is on hand to help. The Llangollen Canal rolls onwards through lazy green scenery, passing under interesting lift bridges, until you reach Hurleston Junction where your route turns left onto the Shropshire Union Canal. Shortly beyond is Barbridge Junction where you take the turn onto the Middlewich Branch of the Shropshire Union Canal. Canal boating through Cheshire's remote rural landscape is a stress-free zone, with wildlife and nature to help refocus on the important things in life. The peace and calm follows you under bridges, over a short aqueduct and along a few country-miles until you reach the junction at Middlewich. This town has produced salt since Roman times and there is an interesting town trail you can follow to discover more about the saltworks settlement that dates back to 150-250 AD. Now following the Trent & Mersey Canal northwards, the story of salt wraps the canal. Salt has always been vital for human survival, and even language has evolved from the importance of it – Roman workers' 'salary' was paid in salt, and the term 'worth one's salt' is still used today.
The next town you meet, Northwich, bears its motto 'Sal est vita' (salt is life), and the story of a town built on the site of brine springs is told in its Salt Museum. Just north of Northwich, you can visit Lion Salt Works, a partially restored industrial heritage site.
Anderton Boat Lift, a Wonder of the Waterways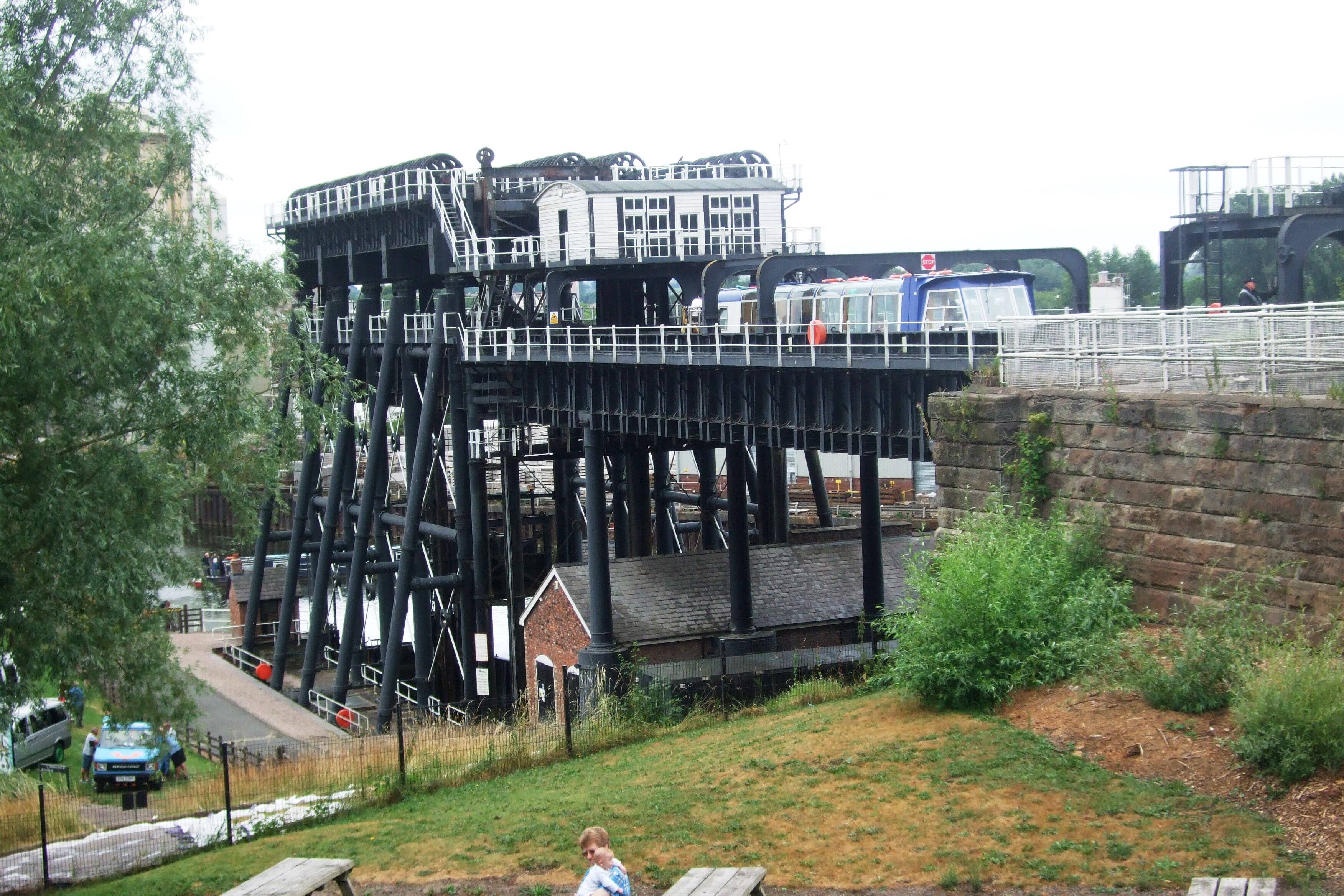 Travelling north, your route takes you to one of the Seven Wonders of the Waterways. Anderton Boat Lift is a masterpiece of engineering and the world's oldest operational boat lift. It was built in 1875 to lift boats over the 50 foot cliff edge from the Trent & Mersey Canal to the River Weaver below. Over 110,000 visitors flock from across the world to see this canal marvel every year, and although your route does not take you via the Lift, you will want to allow enough time to explore this unforgettable experience.
After the excitement of Anderton, prepare for the entertainment of three tunnels - Barnton (572yds/523m long), Saltersford (424yds/388m long) and Preston Brook (1239yds/1133m long) - and an aqueduct, travelling high with delicious views over the valley below. Signs at the end of Preston Brook Tunnel will tell you that the canal has merged into the Bridgewater Canal now. Cruising quietly eastwards along a lock-free stretch from Preston Brook, you can stop to visit Dunham Massey Hall, a 250-acre deer park with an Elizabethan mill and 30-room mansion. Your peaceful route soon ambles into the heart of Manchester city, giving you a chance to shop, eat, visit art galleries and museums, see the work of Lowry or take a peek at a certain famous football ground. And when you're ready to leave the sparkle of the city behind, the promise of Peak District views lies ahead.
Nine locks take the canal up through Manchester to its junction with the Rochdale and Ashton Canals. Travel along the now heavily locked Ashton Canal to Portland Basin and then head southwards along the Peak Forest Canal until you reach glorious Marple Aqueduct. As the canal quietly saunters across the River Goyt from 100 feet above, a parallel viaduct huffs past with those fast trains that once stole trade from the canals. Whatever old rivalry led to the dynamic construction of a canal and a railway hugging so closely, it's the treat of the traveller today. Marple Lock Flight is equally charming with its cluster of 16 beautiful locks built into a canalscape of local stonework. Near the top of the flight look out for the tiny cobblestone tunnel built on the towpath for horses that pulled canal boats over 200 years ago. Look harder and you'll discover a second, even tinier passage hiding by the lock side – this was for boatmen working the lock. History is alive everywhere on Britain's canals, but if you have the chance to stand for a silent moment inside these tiny passageways where working boat-folk once trod, history can seem especially intimate.
Busy Bugsworth Basin
At Marple Junction you might choose a detour to continue along the Peak Forest Canal to visit Bugsworth Basin, which was once the largest and busiest inland port ever created in England's network of narrow canals. The site opened in 1796 and handled over 600 tons of limestone each day at its peak. Today it's a tranquil basin surrounded by lungs-full of lush Peak Forest views. There is a fascinating trail to follow packed with information panels.
If you don't have time to detour along the Peak Forest Canal, travel south from Marple Junction along the Macclesfield Canal. Greenery is magnificently in charge along this canal, with steady uninterrupted calm along its first 16 lock-free miles. Look out for this canal's unique snake bridges. These bridges swirl with perfectly spiralled brickwork that once enabled boat horses to swap sides on the towpath without needing to be uncoupled from their narrowboats. As you near Bollington, don't miss Bollington Discovery Centre in the huge Clarence Mill, which was one of the finest cotton mills in Europe in the 1800s.
The next town you pass is Macclesfield, namesake of this canal. At the height of the silk industry, there were 120 mills and dye houses in Macclesfield which was the end of the amazing Silk Road. There are four fascinating Silk Museums to visit in the town if time allows.
Cruising onwards, this peaceful canal pampers you with space to relax. When you reach bridge 86, it's worth visiting Little Moreton Hall, a National Trust timber-framed manor house dating back to the 1500s. It's a stunning building riddled with history. A short way beyond bridge 86, at Hardings Wood Junction, the Cheshire Ring turns back onto the Trent & Mersey Canal. Your journey heads northwards again towards Middlewich, and then again follows the Middlewich Branch to retrace your route back to Blackwater Meadow Marina to complete your holiday.
If you're looking for a 2 week cruise along the Cheshire Ring in one of our canal boats from Blackwater Meadow Marina, check available dates and book today with ABC Boat Hire.