Searching for the perfect boating holiday in Scotland? Whether you're looking for a romantic getaway with a special someone, a fun-filled family adventure on the waters or celebrating with a group of friends; Scotland is the perfect destination. Learn more about ABC's boating destinations in Scotland for your next trip along the canals.
Holidays in Scotland
Edinburgh holidays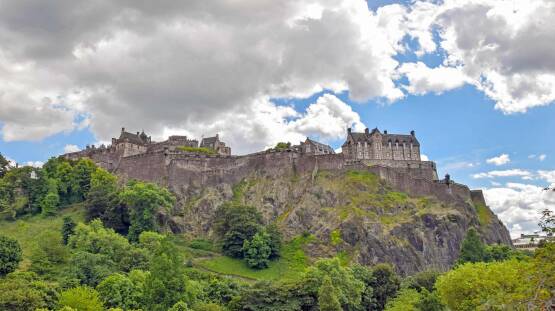 When choosing a boating holiday in Edinburgh, you can experience the delights Scotland's capital has to offer. Home to the world-famous Edinburgh Fringe Festival, the historical Edinburgh Castle and Arthur's Seat, Edinburgh has much to offer – as well as being a great canal boat holiday location to visit. Whether you want to explore the culture and history of the city or take on the hilly walk up to Arthur's Seat, the city is bustling of life – making it ideal for couples, big groups or families to explore.
World famous author, JK Rowling, hinted her inspiration for Harry Potter came from this iconic city – and restaurants and cafes in Edinburgh, such as The Elephant House and Spoon, were places she actually sat and wrote parts of the novel in. Diagon Alley, where Harry and his friends purchase all their school items for Hogwarts, is also said to be influenced by the iconic Victoria Street in the heart of the city centre. Edinburgh can be reached on our Falkirk and return canal route.
Glasgow holidays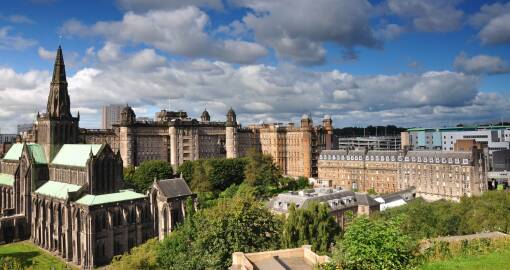 If you're looking for a boating holiday in Glasgow, you can travel from Falkirk, Forth and Clyde, to this Scottish city, full of culture and personality. While on the canal route, you can experience the majestic Campsie Fells rise from the valley – a vision of superb scenery which encapsulates the nature of Glasgow. When exploring the city itself, discover a wealth of art galleries, museums and churches to experience the Scottish culture of this city.
Some of the best things to do in Glasgow are visiting the Kelvingrove Art Galley and Museum, discovering Glasgow Cathedral – with its medieval edifice and ornate windows, as well as the Riverside Museum. You can reach Glasgow on your canal boat holiday from our Falkirk and return route.
Falkirk holidays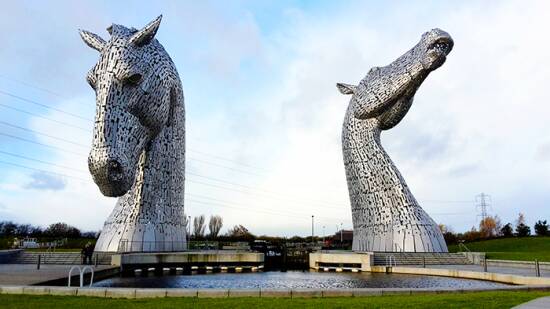 Our canal base in Falkirk, situated in Forth and Clyde, is where you would begin any of our boating holidays in Scotland. As the main base to access the rest of the country by canal, this is a great place to stop off and enjoy the delights Falkirk has to offer.
Looking for things to do in Falkirk during summer holidays with the kids? Why not discover the iconic Falkirk Wheel? Here, modern engineering meets the beauty of the natural waterways - the Falkirk Wheel is a huge attraction of this otherwise impressive canal network. It spectacularly connects the Forth and Clyde canals in Scotland, whilst also providing a fun-filled family activity to experience the world's only rotating boat lift.
From Falkirk, you can also discover the lowlands of Scotland with easy cruising as well as very few locks to navigate through – making this the ideal choice for canal boat beginners. As well as the Falkirk Wheel, the surrounding area includes a wealth of bike and hiking trails, perfect for getting closer to nature.
Canal journeys Scotland
ABC Boat Hire provide a wide range of canal boats, routes and locations to explore. Whether you are looking for a holiday in Edinburgh, to travel the canal network in Glasgow or discover the natural countryside, we have you covered. For more information on our Scotland canal journeys, browse our selection of canal boat holidays in Scotland. Alternatively, get in touch with a member of our friendly team here at ABC Boat Hire today.