If you cruised the entire 137 miles by canal from Birmingham to London without stopping, this would take around 74 hours. However, you're likely to stop for breaks in between – so if you were averaging at 8 hours of cruising a day, this would take you 9 days.
Travelling to London from Birmingham, and vice versa, can be achieved by using the Grand Union Canal – which is the longest canal in the UK!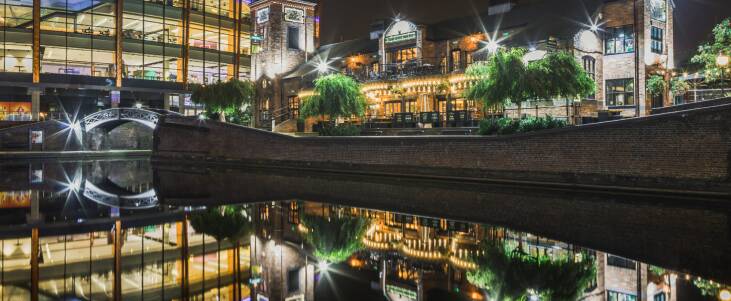 Visit Birmingham by canal
Birmingham is a great destination to begin your canal boat holiday with lots to offer in the exciting city – all starting from Alvechurch Marina, Birmingham. With 100 miles of canals to explore, which is actually more than Venice(!), Birmingham's canal network is renowned for being one of the most intricate waterways in the world.
While you're in Birmingham, you can occupy yourself with exploring Peaky Blinders filming locations, an array of canalside pubs, restaurants and bars, and a wide selection of activities to do – such as The Sea Life Centre, the National Indoor Arena and more. Learn more about Birmingham's canal network from our guide.
Visit London by canal
London is also a great place to visit by canal – with canals such as Regents Canal, which is over 200 years old and 8.6 miles long. Alongside this canal, there's a variety of things to explore and activities to do – such as kayaking, exploring Little Venice (where the Regent's Canal meets the Grand Union Canal), and discover more about the history of London's canal network at the London Canal Museum.
One of the most important things to note when travelling around London via narrowboat is that there may be mooring fees in the London areas, especially on the Thames or in areas of central London. Learn more about where you can moor your canal boat – including navigating service moorings in London – from our helpful guide.
Find your next ABC canal boat holiday starting from Alvechurch Marina in Birmingham. Alternatively, explore more of our canal boat locations, or get in touch with a member of our friendly team.