Whether it's taking to the waters on a romantic canal boat holiday with your loved one; relaxing in a luxury spa; or exploring London's world-renowned West End theatres, find the perfect ideas for midweek breaks for couples from our handy guide.
Short midweek romantic breaks
1. Romantic spa breaks
Fancy a midweek romantic break with your partner? The perfect option to relax and unwind, take to the spas and find yourself suitably pampered. Stay for a couple of nights in a quaint countryside spa with views to admire; copious luxury food to devour and spa treatments galore – allowing you to really wind down and spend some quality time together. Whether you make it simply an overnight stay, or want to camp out in the spa for as long as possible, enjoy the time you spend together for as long as you need.
2. Canal boat couples breaks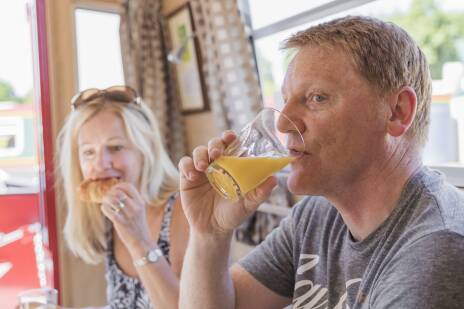 Looking for short breaks in England for couples? With the option of travelling to Scotland and Wales too, take to the waters with your loved one and escape to the British waterways – the perfect getaway from the busy humdrum of day-to-day life. With ABC Boat Hire, find yourself cruising alongside picturesque scenery, exploring a wealth of cities and discovering the 7 Wonders of the Waterway on your way. Find the top UK canal boat locations or 7 best canal routes for pubs to visit for your romantic break away on the waters.
Looking for a short midweek trip? Our 4-night breaks for couples is the perfect choice – find out more about our canal boat short breaks on the waters now.
3. City breaks for couples
Need a bit of quality time with your partner? Jet off to a foreign city and spend time with one another experiencing different culture, cuisine and climates. Venture out to Scandinavia in the cooler months to experience the Northern Lights, Lapland at Christmas and more Nordic culture! In the summer, take to Italy's Amalfi Coast and explore the vast stretch of sandy coastline, or tick off touristic hotspots around Rome or Venice.
Alternatively, staying closer to home can be just as romantic – if you choose to take to the waters on one of our canal boat holidays, you can explore a wealth of UK cities such as Edinburgh, Bath or Birmingham! Find out more about our routes and how you can utilise what's on your doorstep for your romantic city break with a loved one.
4. Couples trip to the West End
Fans of the theatre? Make your way to the capital and explore the delights of the West End, which is London's entertainment district located around Covent Garden and Leicester Square. From matinee performances to evening performances, choose your favourite show from classics such as The Lion King, Phantom of the Opera and We Will Rock You, to less well-known performances such as Sweeny Todd, Kinky Boots and Waitress!
Before your theatre performance, wine and dine and enjoy some pre-show fuel while taking in the exciting street entertainment in the heart of London's Covent Garden. The perfect way to spend quality time with a loved one, enjoy not only the hustle and bustle of England's capital city, but also the entertainment of sitting back and enjoying one of London's popular West End shows.
Now you're more clued up on the best midweek breaks for couples, book yours in today. Our selection of canal boat routes is vast, and will be sure to appease any curious explorers' appetites for adventure. Get in touch with a member of our helpful team today for more information on our midweek romantic breaks now.