Love a good hike? Perhaps you're looking for an excuse to dust off the walking boots and get some fresh air amid beautiful British countryside? A canal walk is the perfect way to do just that. From canal walks in England to Welsh and Scottish walking trails, find our 5 best canal walks in the UK to explore on your next narrowboat holiday.
Top 5 canal walking routes in the UK
1. Grand Union Canal, London > Birmingham
Length of canal walk: 8 miles
Walking the entire length of this 147-mile stretch from London to Birmingham would be quite the challenge – but luckily, there is an 8-mile section between Hemel Hempstead and Tring stations that is manageable for avid walkers. This scenic canal walk allows you to immediately step out from the hustle and bustle of city life into picturesque countryside – amongst the likes of ducks, geese and swans along the way.
Find out about our Banbury and return canal routes along the Grand Union Canal.
2. Llangollen Canal, Wales
Length of canal walk: 6 miles
For more of a challenging walk for the regular hikers among us, this six-mile trek on Llangollen canal is the perfect choice. Combining the beautiful naturally sculpted countryside with the magnificent engineering this canal has to offer, it makes this canal walk one of the most iconic trails to tread. Of course, this is home to one of the most well-known aqueducts in the UK waterways – The Pontcysyllte Aqueduct, which is one of the 7 wonders of the waterway. Beginning your walk at Horseshoe Falls, the canal walk will take you alongside the Dee Valley and up to the aqueduct, packed with a wealth of nature and wildlife to spot on the way.
Learn more about Llangollen and return canal routes from our detailed guide.
3. Union Canal, Edinburgh
Length of canal walk: 8 miles
Connecting Edinburgh and Falkirk, this 35-mile-long canal covers a wide range of Scotland from the history of Linlithgow Palace (which was the birthplace of Mary Queen of Scots) to beautiful wildlife to admire, such as kingfishers and herons. However, beginning at Edinburgh Quay is a much more manageable canal walking route which covers 8 miles. There's also plenty to experience at this canal, including an array of activities such as paddling, boating, cycling and fishing.
From Falkirk with ABC Boat Hire, you can experience the lowland of Scotland while the route seamlessly links together the Union Canal and the Forth and Clyde canal.
4. Forth and Clyde Canal, Scotland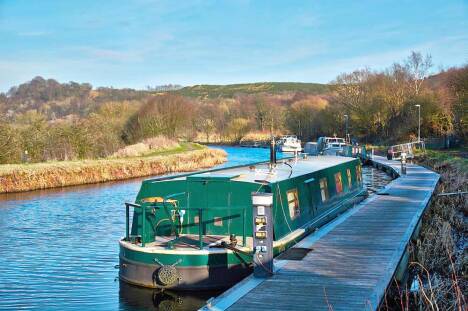 Length of canal walk: 10 miles
The entire length of the Forth and Clyde Canal is 35 miles – which is a long way to walk in one go, but achievable with an overnight stay if you're up for a challenge. However, for something a little more manageable, there are various routes you can take along the canal – such as the 10 mile canal walking route from Maryhill in Glasgow to Bowling. Alternatively, you can walk alongside the canal for as long as your please – and simply turn back whenever you like!
See more about our Edinburgh and Glasgow routes which takes you through the Forth and Clyde canal to Glasgow.
5. Monmouthshire and Brecon Canal, Wales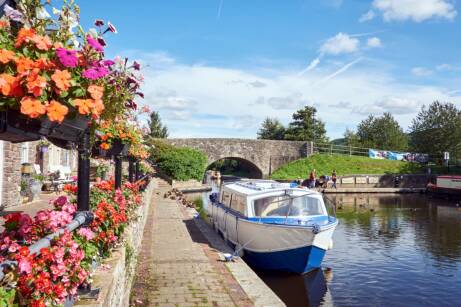 Length of canal walk: 2 miles
Winding through the heart of the Brecon Beacons, the Monmouthshire and Brecon canal walk is the perfect choice for hikers looking to get off the beaten track. Surrounded by an array of countryside scenery, river valleys, woodland and picturesque mountains to admire, this is arguably one of the most stunning canal walks in the UK. Start off your two-mile trek at Brecon Wharf following the canal along to Brynich Loch. And if you're visiting Monmouthshire and Brecon Canal by narrowboat, our detailed guide on the routes available at Monmouthshire and Brecon has you covered.
Now you've learnt some of the best canal walks in the UK, it's time to book your next canal boat holiday. From a range of narrowboat locations to various canal routes and more, ABC Boat Hire have you covered for your next trip on the waters. Get in touch with a member of our friendly team today.